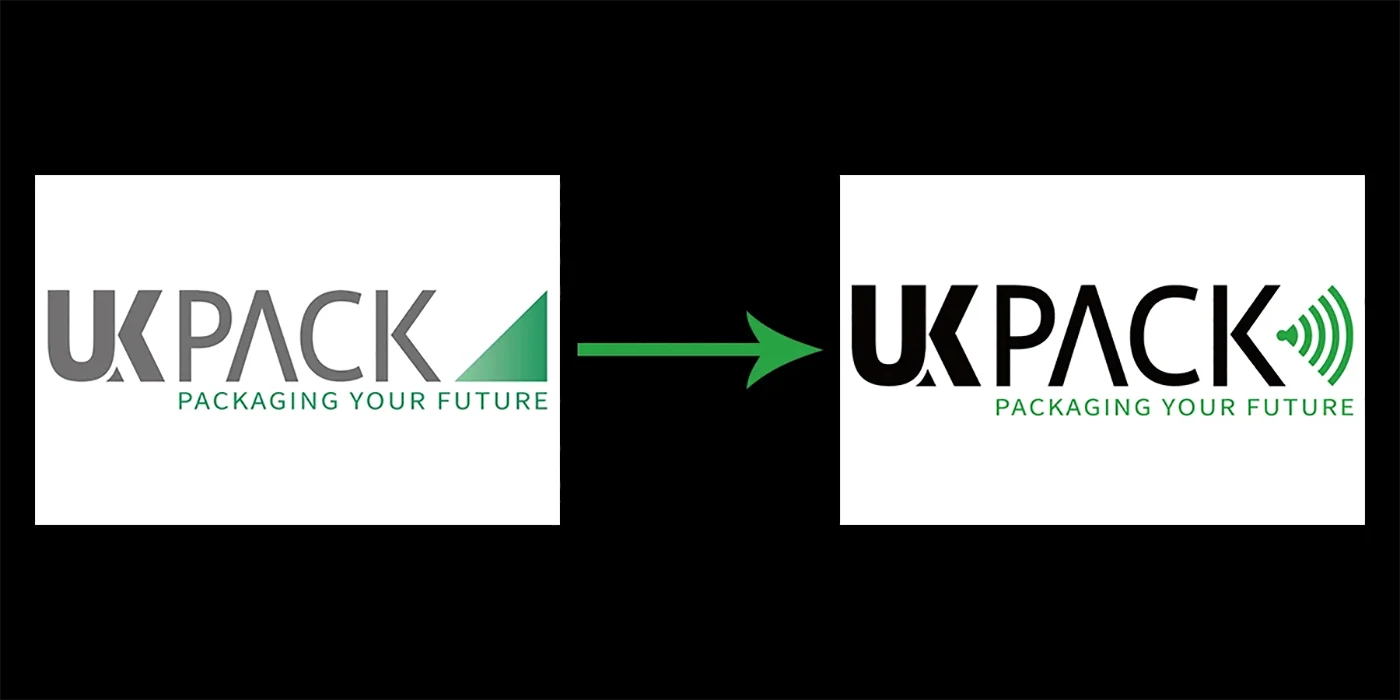 Evolving Our Brand: The Story Behind Our Logo Redesign
UKPACK is thrilled to introduce the new brand logo, an exciting milestone in our journey towards innovation, progress, and customer satisfaction.
This article dives into the story behind our recent logo redesign, exploring the motivations, creative process, and the message we aimed to convey through our new visual identity.
Our Old Logo Meaning
Triangle Design: Stability and Strength
Our previous logo featured a distinctive triangle design, symbolizing stability and strength. The geometric shape of the triangle conveyed our unwavering commitment to reliability and durability. It embodied the core values that set us apart in the cosmetic packaging industry, assuring our customers of our steadfastness and trustworthiness.
Sustainable Development: A Commitment to Environmental Responsibility
Embedded within our old logo was the concept of sustainable development. As a responsible corporate citizen, we recognized the urgent need to embrace environmentally friendly practices. Our old logo served as a constant reminder of our commitment to preserving the planet, prompting us to develop sustainable cosmetic packaging solutions and reduce our carbon footprint.
Innovation: Driving Creativity and Advancement
Innovation has always been at the heart of our operations. The forward-thinking nature of our old logo represented our dedication to pushing boundaries and exploring new frontiers. It served as a symbol of our commitment to staying ahead of the curve, continuously introducing cutting-edge technologies and creative solutions to the cosmetic packaging industry.
Our New Logo Meaning
WIFI Design: Connecting Globally
Our new logo features a striking WIFI design, representing our aspiration to connect with customers worldwide. The WIFI symbol conveys our commitment to bridging geographical boundaries and establishing lasting connections with clients, partners, and suppliers across the globe.
Developing Our Products Worldwide
With the new logo, we aim to develop and distribute our exceptional cosmetic packaging solutions on a global scale. Our logo represents our determination to make our products accessible to customers all over the world. By extending our reach beyond borders, we can cater to a broader customer base and offer our high-quality packaging solutions to diverse markets, ensuring that our clients receive the best products regardless of their location.
More Business Services: Expanding Our Offerings
By leveraging our industry expertise and strategic partnerships, we will introduce a broader range of business services to support our clients' success. These services may include market research and analysis, product development consultation, supply chain management, and more. Our goal is to become a trusted partner for our customers, providing them with holistic support and value-added services that help them thrive in the competitive beauty industry.
Why We Change Our Logo
After successfully achieving our mission in the first stage of our journey, we recognized the need to embark on the next stage of our growth and development. Our logo redesign signifies this transition and highlights our commitment to continually push boundaries, explore new opportunities, and advance our brand in alignment with our evolving vision and strategic goals.
As a leading cosmetic packaging manufacturer and supplier, our company has consistently demonstrated its ability to deliver high-quality products and establish a strong presence in the market. Our old logo, with its triangle design symbolizing stability and strength, served us well during this initial phase. It represented the foundational principles that allowed us to build a solid reputation based on reliability and durability.
However, as we progressed and accomplished significant milestones, we realized that our brand identity needed to evolve to reflect our changing ambitions and aspirations. We wanted our visual identity to capture the essence of our brand's growth, innovation, and global reach. Hence, the decision to embark on a logo redesign was born.
What We Will Do
As we move forward with our new logo, we have an exciting roadmap ahead. Here are some initiatives and projects we are planning to undertake:
Expanded Product Offerings
At UKPACK, we understand that the cosmetic industry is ever-evolving, with new trends and customer demands emerging constantly. To address these changing needs, we are committed to introducing new and innovative cosmetic packaging solutions. Our focus is to develop packaging options that are not only aesthetically pleasing but also sustainable and customizable.
Through extensive research and collaboration with industry experts, we will bring forward fresh and creative designs that align with the latest market trends. Our goal is to provide our customers with a diverse range of packaging solutions that meet their unique requirements and help their products stand out in the competitive market.
Market Expansion
As part of our global aspirations, we are determined to expand our presence and better serve clients worldwide. Through active market exploration and strategic partnerships, we aim to establish ourselves as a trusted supplier of cosmetic packaging solutions on a global scale.
Drawing upon our extensive network and industry expertise, we will identify new markets that align with our business goals. By forging strong collaborations with local distributors, retailers, and industry influencers, we can effectively penetrate these markets and establish a strong foothold. This expansion will enable us to reach a wider customer base and cater to the diverse needs of cosmetic brands and manufacturers worldwide.
Research and Development
To maintain our position as an industry leader, we recognize the importance of continuous research and development. We are committed to staying at the forefront of technological advancements in the cosmetic packaging industry. This dedication allows us to consistently offer innovative and cutting-edge packaging solutions that meet the evolving demands of the market.
Through strategic partnerships with research institutions and investment in state-of-the-art facilities, we will focus on developing groundbreaking packaging technologies and materials. Our R&D efforts will encompass areas such as sustainability, functionality, and product compatibility to provide our customers with packaging solutions that are not only visually appealing but also efficient and eco-friendly.
Customer-Centric Approach
At UKPACK, our customers are at the heart of everything we do. We are committed to further enhancing our customer service to ensure their utmost satisfaction. Building strong and lasting relationships with our clients is a priority for us, and we will actively seek their feedback to continuously improve our products and processes.
We understand that our customers may have sourcing needs beyond cosmetic packaging. Leveraging our extensive network and experience in China, we are well-equipped to assist them in sourcing other products from reliable suppliers. Whether it is identifying suitable manufacturers, negotiating competitive pricing, or overseeing quality control, we are dedicated to providing comprehensive support and streamlining the procurement process for our valued customers.
Sustainable Initiatives
At UKPACK, sustainability is a core value that guides our operations. We are determined to minimize our environmental impact and promote sustainable practices across all aspects of our business. This includes implementing eco-friendly manufacturing processes, exploring the use of recyclable materials, and actively seeking collaborations with like-minded organizations.
Through continuous innovation and improvement, we strive to reduce waste generation, energy consumption, and carbon emissions. By integrating sustainability into our supply chain, we aim to offer our customers packaging solutions that align with their own sustainability goals. Together with our partners and clients, we can make a positive contribution to the preservation of the environment and the overall well-being of our planet.
Conclusion
The logo redesign represents a pivotal moment in our brand's journey. It embodies our commitment to stability, sustainable development, innovation, and global expansion. As we enter this new chapter, we are excited about the possibilities it holds. We invite you to join us on this path of growth, as we continue to provide exceptional cosmetic packaging solutions and shape a brighter, more sustainable future for the industry.
Recent News and Events
UKPACK
In the world of beauty and skincare, innovation is the key to captivating audiences and delivering unparalleled products. Fan Beauty, a renowned name in the industry, has taken a giant [...]
UKPACK
We are thrilled to announce a significant milestone for our affiliated factory producing syrup pump dispensers. After months of rigorous evaluations and stringent quality checks, we are proud to share [...]
UKPACK
UKPACK is thrilled to introduce the new brand logo, an exciting milestone in our journey towards innovation, progress, and customer satisfaction. This article dives into the story behind our [...]