Wholesale Plastic Cosmetic Bottles Supplier in China
As a leading cosmetic bottle supplier, UKPACK manufactures a wide range of high-quality plastic cosmetic bottles for various personal care and beauty products.
Moreover, we provide empty cosmetic bottles in different plastic, shapes, sizes, and colors to suit any product, as well as custom-made solutions to meet specific packaging needs.
You can get high-quality and cost-effective products from us.
UKPACK Custom Cosmetic Bottles Packaging
Cosmetic bottles package and dispense various personal care and beauty products such as lotions, creams, gels, shampoos, and other liquid or semi-liquid products. They can also have a variety of dispensing mechanisms, such as pumps, sprays, droppers, and more.
At UKPACK, you can get one-stop OEM and ODM solutions for custom cosmetic bottles. You can choose different plastic materials, including PP, PET, PETG, acrylic, HDPE, etc.
In addition, we provide various services such as silk screen printing, hot stamping, labeling, and more to help customers achieve their desired look and feel for their packaging. We also have a team of experienced designers who can assist customers in creating custom designs that will make their products stand out on the shelves.
With advanced technology and equipment in the manufacturing process, we ensure that each bottle is made to the highest quality and durability standards. What's more, we support mass production at a fast lead time. If you have specific cosmetic bottles requirements, don't hesitate to contact us.
Why Choose UKPACK Cosmetic Bottles
Cosmetic Bottles Applications
Cosmetic bottles are used to package and dispense a variety of personal care products such as skin care, hair care, makeup, and fragrance products. Some common applications of cosmetic bottles include:
Skin care products: Lotions, creams, serums, and other skin care products are commonly packaged in cosmetic bottles. These bottles can be made of glass or plastic and can be dispensed with pumps, droppers, or sprayers.
Hair care products: Shampoo, conditioner, hair styling products, and other hair care products are often packaged in plastic or aluminum bottles with pumps or flip-top caps.
Makeup products: Foundations, powders, eye shadows, and other makeup products are often packaged in small, plastic bottles or compacts with screw-top or snap-on lids.
Fragrances: Perfumes, colognes, and other scented products are typically packaged in glass or plastic bottles with spray pumps or roll-on applicators.
Professional use: bottles are also used in salons and spas to dispense hair color, hair treatments, and other professional-grade products.
If you have any needs of cosmetic bottles for your applications, please don't hesitate to message us today.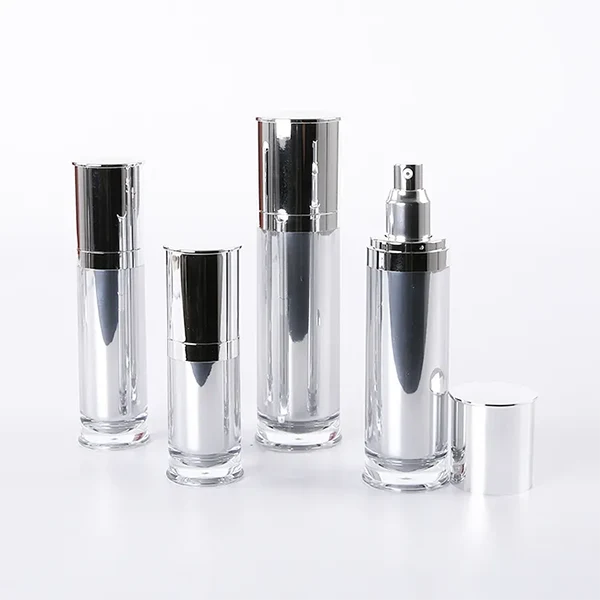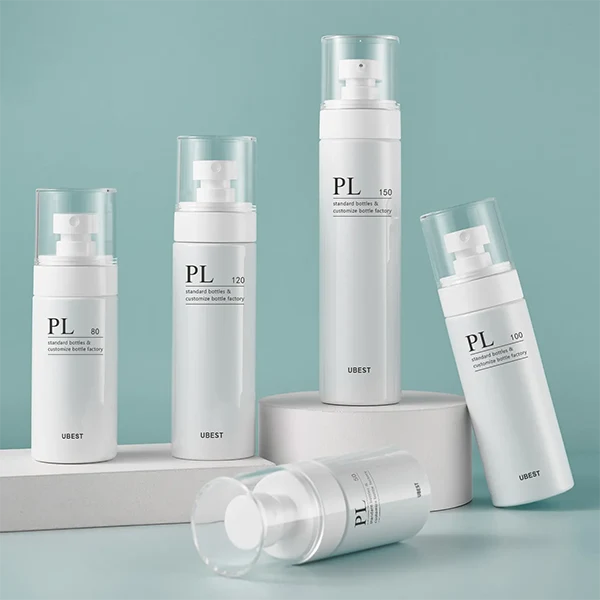 Surface Finishes on Cosmetic Bottles
Surface finishes on cosmetic bottles can add a touch of elegance, improve functionality, and enhance the overall look and feel of a product. Some common surface finishes used on cosmetic bottles include:
Screen Printing: It is a printing process that involves using a stencil to apply ink to the surface of a bottle. This can be used to add text, images, or patterns to a bottle. It's an effective way to add branding, product information, or other details to a bottle.
Labeling: Labeling is the process of applying a pre-printed label to a bottle. This can be done with pressure-sensitive labels, heat-transfer labels, or shrink sleeves. Labeling allows for a high-quality and long-lasting print and is the most popular method to add branding and product information to a bottle.
Hot Stamping: It is a process in which a heated die and foil are pressed onto the surface of the bottle. This creates a shiny, metallic effect that can be used to add text, images, or patterns to a bottle.
Embossing: It is a process where a design is pressed into the surface of the bottle, creating a raised or indented effect. This can be used to add text, images, or patterns to a bottle and give a tactile feel.
Besides, we also offer matte finish, glossy finish, frosted finish, soft touch finish, metallic finish, textured finish, UV coating, and more.
These custom surface treatment finishes can help create a unique and memorable look for a cosmetic bottle, as well as enhance branding and product information.
Your Best Cosmetic Bottles Factory in China
UKPACK is a leading cosmetic bottles factory in China, providing high-quality and customizable cosmetic bottles for businesses worldwide. We have been in the cosmetic packaging industry for decades and have a deep understanding of the cosmetics industry.
In addition, we understand the importance of meeting our customers' needs, and we strive to provide excellent customer service at every step. We also offer competitive pricing and are dedicated to producing products that are both of the highest quality and affordable.
What's more, we have an experienced team of professionals who are well-versed in the latest trends and technologies in the field, and they are able to provide excellent customer service and support.
Overall, UKPACK is a trustworthy, reliable, and experienced cosmetic bottles factory that can help bring your brand to the next level.
Clients Testimonials
UKPACK has been our go-to supplier for cosmetic bottles for years. Their products are always of high quality and the customer service is top-notch.
We've tried multiple suppliers for our cosmetic packaging needs but UKPACK is by far the best. They have a great selection of bottles and the ordering process is seamless.
Our customers love the stylish and high-quality cosmetic bottles we order from UKPACK. The prices are also very competitive and delivery is always on time.
As a small beauty business, it was important for us to find a supplier that could offer both affordable and high-quality cosmetic bottles. UKPACK has exceeded our expectations in every way.
UKPACK has been a lifesaver for our business. Their wide selection of cosmetic bottles and excellent customer service have made our packaging process so much easier.
The FAQs of Cosmetic Bottles
If you have any further questions about cosmetic bottles, please keep reading the common FAQs as follows.