PP Dual Chamber Airless Bottle for Lotion, Cream, Serum
Material: PP plastic
Capacity: 20ml ( each chamber 10ml ), 30ml ( each chamber 15ml )
Color: We can customize any colors according to your requirements
Logo & Printing: We offer custom surface finishes for logo and printing
Usage: Lotion, cream, serum, essence, etc
Feature: Durable, lightweight, portable, etc
MOQ: 10000pcs
What is A Dual Chamber Airless Bottle?
A dual chamber airless bottle is a unique and advanced type of cosmetic packaging. It has two compartments that are separate and airtight, allowing for two different products to be stored in the same bottle without coming into contact with each other. This is perfect for products that need to be used for two steps, or days & night products.
What's more, it increases the stability and shelf life of your cosmetic products. By keeping your product separated from the air, you can extend its shelf life and prevent it from going bad.
Submit a quick quote for your new product line.
There Sizes of Dual Chamber Airless Bottles
We have three sizes for this dual chamber airless bottle.
16ml – each chamber is 8ml

20ml – each chamber is 10ml

30ml – each chamber is 15ml
It's important to choose the one that's right for your needs. The 16ml size is the most compact and portable, making it ideal for taking on the go. The 20ml size is a good middle ground, offering a good balance of portability and capacity. The 30ml size is the largest option, giving you the most capacity for your product.
| Size | OD | Height |
| --- | --- | --- |
| 16ml | 45.4mm | 96.5mm |
| 20ml | 45.4mm | 105.8mm |
| 30ml | 45.4mm | 131.8mm |
Materials of A Dual Chamer Airless Bottle
We use high-quality and eco-friendly materials for all of our products. The dual chamber airless bottle is made of PP plastic and AS plastic. They can offer good support and stability.
Futhermore, we can also provide PCR plastic to meet your need. Just tell us about your detailed specifications, we can offer you the right materials for your products.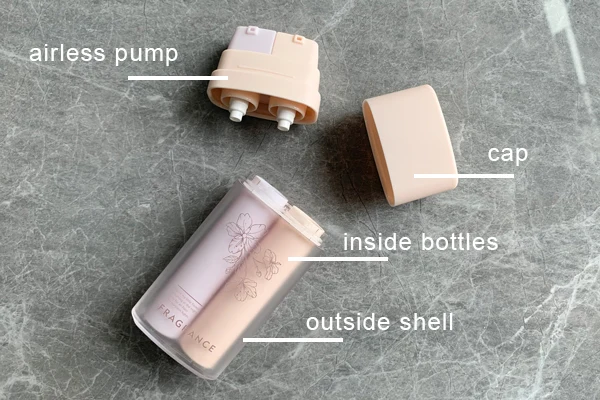 Custom OEM & ODM Service
UKPACK offers one-stop custom OEM and ODM service to satisfy your needs.
A wide range of customization services are as follows: materials, sizes, colors, surface finishes, shapes, and more.
Materials – PP, AS, PCR
Capacities – 16ml, 20ml, and 30ml. If you want other capacities, please feel free to contact us.
Colors – We are able to make any colors according to your requirements.
Surface finishes – most popular methods are screen printing, hot stamping, and label sticker.
Get a quick quote now, and we will offer a competitive price to support your business.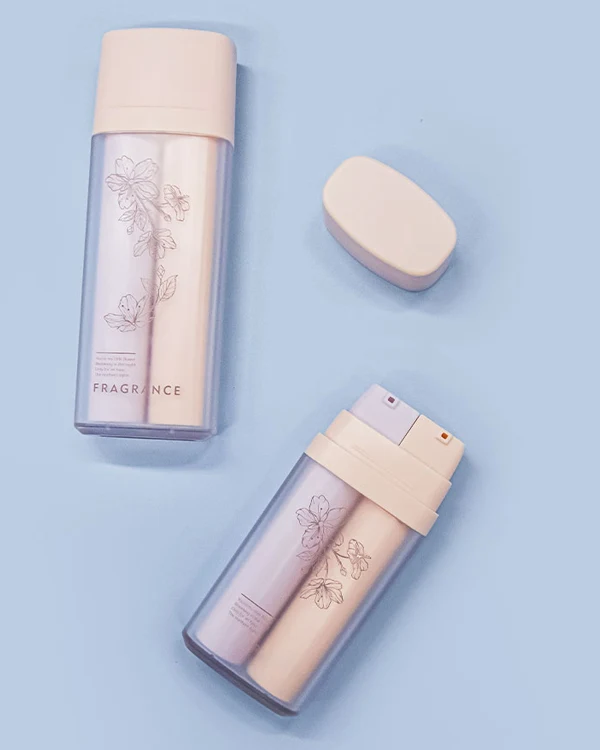 Where Choose Us?
As a leading airless bottle factory in China, we have over 10 years of experience in producing any type of airless pump bottles for cosmetics, skincare, beauty, personal care, and more products. We're equipped with advanced machines that allow us to produce high quality, cost-effective products. Our after-sale service is designed to keep you worries free–we look forward to win-win business relationships with all of our clients.
Client Testimonials
Don't take our word for it, read the feedback from some of our clients.
Dual Chamber Airless Bottles: The Ultimate FAQ Guide
If you're looking for a dual chamber airless bottle to your product line, you've come to the right place.
In this guide, we'll cover everything you need to know about it.
Let's start!
You May Also Like
Find more airless pump bottles, we have a wide range of them. Please don't hesitate to contact us today. Our professional sales team will support your business 24/7 online.