Aesthetics and functionality are important considerations when selecting cosmetic packaging. However, with the vast array of options available, it can be overwhelming to choose the right supplier. To help you narrow down your options, we've compiled a list of the world's top 16 best cosmetic packaging companies.
These companies are leaders in the cosmetic packaging industry, offering a wide range of packaging solutions for cosmetics, skincare, fragrance, and more. With years of experience and a commitment to customer satisfaction, they are sure to meet your needs and exceed your expectations.
So, if you're looking for a reliable and reputable cosmetic packaging supplier, check out our list!
Top 16 Best Cosmetic Packaging Companies List
We have researched and shortlisted the top 16 best cosmetic packaging companies:
UKPACKCHINA has more than ten years of experience in China as a cosmetic packaging company. They are devoted to providing top-quality and stylish products at competitive prices.
They offer one-stop OEM and ODM cosmetic packaging solutions to meet your detailed specifications. You can choose various options, such as designs, shapes, materials, sizes, colors, surface finishes, and more.
Whether it's cosmetic bottles or cosmetic jars, they can always provide the right products for your project.
In addition, they provide free samples to you for testing before you make a large purchase.
If you are looking for a China cosmetic packaging company, UKPACKCHINA will be your best choice.
There are multiple services that they offer:
A wide range of plastic cosmetic bottles and jars
Brand and private labeling
Custom molding
Surface treatment
Free sample
Small MOQ
Short production time
DDP shipping
24/7 online support
They have a wealth of experience cooperating with some of the world's top cosmetic brands.
Moreover, their knowledge and understanding of the industry are second-to-none, and they can provide their clients with the highest quality products and services.
Furthermore, they are constantly innovating and expanding their business and always looking for new and better ways to serve their clients.
Cosmeticpumpbottle is also an expert cosmetic packaging company that is situated in Shaoxing, a city in China. They offer airless pump bottles, cosmetic cream jars, lotion pump bottles, foam pump bottles, body butter jars, dropper bottles, and more.
The company provides customized skincare packaging solutions with multiple options, such as screen printing on plastic, electroplating, color spraying, etc.
Their clients are worldwide, such as in the United States, Australia, United Kingdom, South Africa, Korea, Germany, Netherlands, Indonesia, Philippines, Singapore, Vietnam, Brazil, Italy, and more.
Cosmeticpumpbottle offers a complete cosmetic packging manufacturing service in China.
In addition, they have rich product lines that cover a wide range of products for cosmetics, skincare, beauty, and personal care industries.
You will also get competitive prices and high-quality products from them.
If you are a start-up business owner looking for a trusted skincare packaging supplier to save your time along with cost, contact Cosmeticpumpbottle now.
UKPACKPACKAGING is located in Zhejiang, China. They are in the field of providing cosmetic packaging products for more than 10 years.
UKPACKPACKAGING has the specialty to manufacture plastic cosmetic packaging, such as plastic cosmetic bottles, plastic cosmetic jars, plastic foam pump bottles, plastic spray pump bottles, and more.
For applications, their products are perfect for body butters, face creams, eye creams, serums, body lotions, moisturizer, etc.
One-stop cosmetic packaging service that they offer:
Plastic cosmetic bottles and jars

Surface finishes
Free sample
Customized OEM and ODM service
Small MOQ
Quick production time
For all beauty and skincare businesses, UKPACKPACKAGING is a one-in-all solution.
4. SKS Bottle & Packaging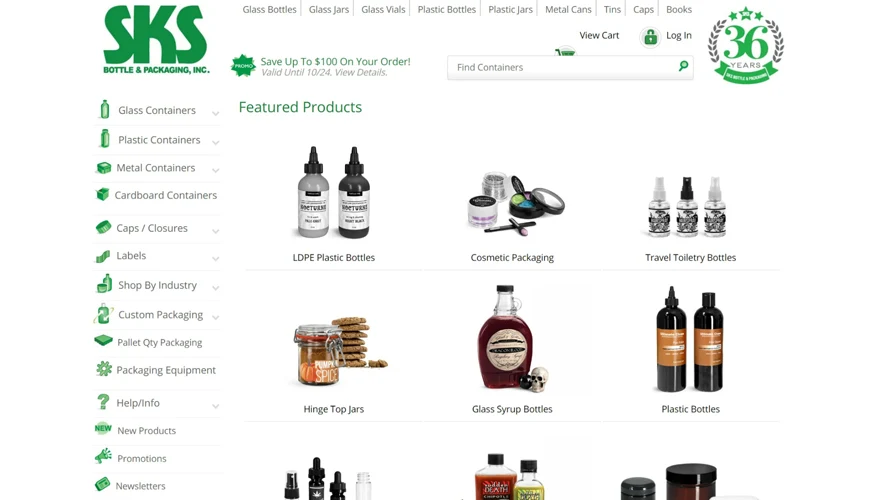 SKS Bottle & Packaging was founded in 1986 and is a leading supplier of glass, plastic, and metal containers, as well as caps and closures, to small businesses and large Fortune 500 companies.
In addition, SKS offers various containers in various sizes and styles, so you're sure to find the perfect packaging for your product.
Whether you need a few bottles for a small product batch or thousands of containers for large-scale production, SKS has you covered.
They provide personal care, cosmetics, perfume, salon and spas, food and beverage, and medicinal and household chemical product packaging.
This is an excellent choice for small and medium-sized business.
APC Packaging was founded in 1986 and is a leading supplier of glass, plastic, and metal containers, as well as caps and closures, to small businesses and large Fortune 500 companies.
In addition, SKS offers various containers in various sizes and styles, so you're sure to find the perfect packaging for your product.
Whether you need a few bottles for a small product batch or thousands of containers for large-scale production, SKS has you covered.
Get cosmetic containers in different materials, sizes, colors, and styles.
Small and medium-sized businesses worldwide.
Cosmopak provides unique cosmetic and beauty packaging at a value price point. The main products are lipsticks, airless bottles, brushes, jars, and tubes.
They help brands develop customized beauty products.
It's a good choice for small and medium brands.
7. Cosmetic Packaging Now
CPN is a leading distributor of laboratory-grade cosmetic packaging containers. They offer not only "in-stock" items but also "custom" solutions.
Moreover, CPN can always offer ready-to-ship cosmetic packaging at wholesale prices, no matter how large or small your business is.
A broad range of cosmetic packaging items as below:
Closures
Airless bottles
Airless jars
Tubes
Lip gloss containers
It's an excellent choice for those who require cosmetic packaging in stock.
Quadpack is a top European cosmetic packaging company that was founded in 2003. They provide a wide range of high-quality and sustainable products with wooden components.
Moreover, they are an innovative supplier with extensive injection-molding experience.
You can find these products at Quadpack, such as:
Airless bottles
Jars
Bottles and packers
Droppers and tottles
Tubes
Pumps
Lips
Sticks
Applicators and pens
They provide innovative products to meet your detailed specifications.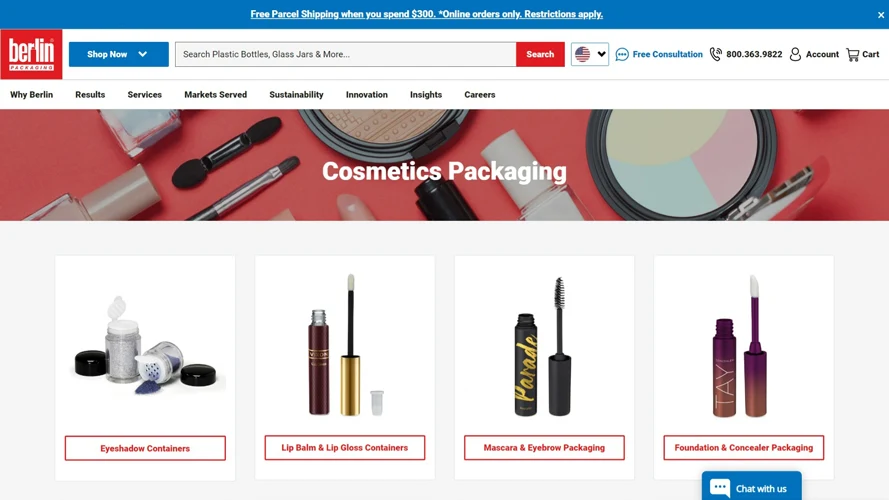 Berlin Packaging is not only a cosmetic packaging distributor but also a consultancy. Over the past 100+ years, they have built their company into a packaging juggernaut.
Berlin Packaging offers a wide range packaging for these industries:
Food
Beverage
Personal care and beauty
Cosmetics
Spirits, and more
They make packaging easy for their customers. They provide finding, designing, sourcing, making, shipping, storing, and more.
10. The Packaging Company
TPC has been designing and manufacturing cosmetic packaging since 1994. They specialize in manufacturing custom packaging with the highest quality.
Their in-house team of engineers and designers will assist you with:
Concept
Function
Artwork
Layout
TPC provides clients with the right high-quality packaging solutions for their products every time.
Frapak is a plastic packaging specialist in the Netherlands.
In the last 20 years, Frapak have been a successful manufacturer of HDPE and PET Bottles and distributor for cosmetic and trigger pumps.
Nowadays, they have offices in Germany, France, Holland, Denmark, United Kingdom, Belgium, Spain, and Italy.
Due to the complete network, Frapak can supply a large number of standard products directly from their warehouses throughout Europe.
3D design and prototype
Custom moulding
Colour matching
Screen printing
Hot foil stamping
Lacquering metallization
Dip tube cutting
Packaging assembly
Frapak has a deep network of 8 offices in different countries in Europe. They provide clients with a wide range of plastic bottles, jars, and dip tube caps.
HCP Packaging was founded in Taiwan, China, in 1960. They design, develop, and supply high-quality packaging for cosmetics and skincare brands.
Moreover, HCP Packaging has factories across Asia, North America, and Europe.
Compacts, palettes, and kits
Lipsticks and twist-up sticks
Lip gloss
Mascara
Eyeliners
Nail polish caps
Combination packs
Jars and pots
Tottles
Concealer
Brows
Airless tubes
With an enviable reputation for innovation, creative technology, and state-of-the-art manufacturing, HCP Packaging provides customers with direct and immediate access, feedback, and solutions.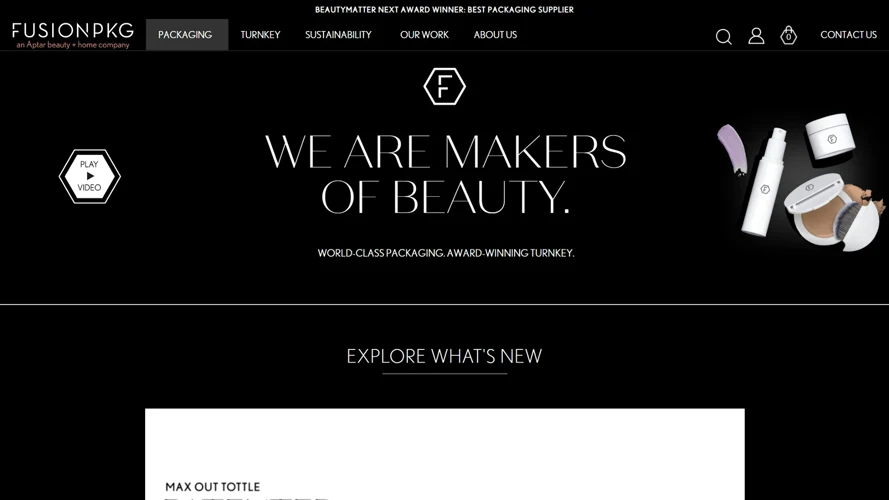 Derek Harvey and Jonathan Gross co-founded FusionPKG in 2004. With a mission to redefine packaging, FusionPKG provides cosmetics, beauty, and skin care products on the backs of innovation, premium quality, and exceptional customer service.
In addition, FusionPKG is uniquely positioned to provide end-to-end package and formula solutions.
Applicators
Beauty sticks
Bottles
Compacts
Droppers
Jars
Sprayers
Tubes
Lipsticks
They offer end-to-end beauty solutions and a full-service team of industry experts, all in-house.
Rieke was founded in 1921 by Theodore W. Over the past 100 years, Rieke has already been a leading packaging supplier for Beauty & Personal care, Home Care, Food & Beverage, and Pharmaceutical & Nutraceutical end markets today.
Dispenser pumps
Caps
Sprayers
Closures
Jars
Industrial drum products
Scoops
Rieke will provide high-quality packaging solutions to enhance your brand.
APG Packaging has over 25 years of experience in cosmetic and beauty packaging. Meanwhile, they offer high-quality products at short production periods and lower prices below market standards.
Sustainable packaging
Ecommerce packaging
Jar solutions
Bottle solutions
Dropper solutions
Airless solutions
Cosmetic compacts
Collapsible tubes
Lipstick
Beauty sticks
Cosmetic palettes
Pump dispensers
Sprayer solutions
Mascara solutions
Long history
A wide range of products
Fast production
Competitive price
APR Beauty Group was founded in 2001; it is a global supplier specializing in cosmetic packaging, formulations, skincare, beauty, and personal care products.
With the ISO-certified manufacturing facility, APR Beauty can customize packaging to meet their client's requirements.
Jar
Tottle
Tube
Dropper
Pump bottle
Compact
Lipstick
Lip gloss
Eyeliner
Mascara
APR Beauty provides vertically integrated solutions and turnkey options to deliver quality products to their clients.
We hope this cosmetic packaging companies list will help you. If you have any urgent purchase requirements on cosmetic packaging, please feel free to contact us!
UKPACK
Droppers and pipettes may appear unassuming, but they hold immense importance in various fields. Whether you're a scientist, a healthcare professional, an artist, or a DIY enthusiast, these precision [...]
UKPACK
In an era when the world is increasingly focused on environmental consciousness, refillable deodorants are emerging as a symbol of the intersection between innovation and responsibility. This industry is [...]
UKPACK
If you are a coffee lover and a frequent visitor to Dunkin', you might have wondered about the number of pumps of syrup used in their iced coffee beverages. [...]