Travel Size Foam Pump Bottle
Material: PP and PET plastic, PCR material available
Color: White, yellow, black, pink, purple, pink, green, all colors available
Size: 30ml, 50ml, 60ml, 80ml, 100ml, 120ml, 150ml, 200ml
Logo & Print: Custom logo and printing available
Surface Finish Methods: Silk screen printing, hot stamping, color injection, frosted or matte surface, and more
Application: Hand wash soap, facial cleanser, lash shampoo, eyelash extension cleanser, hair conditioner, shaving cream, dish soap, and more
Feature: Portable, travel size, BPA-Free, odorless, harmless, rich foam, widely used, high quality, spill-proof design, leak-proof, etc
MOQ: 10000pcs
Sample: Free sample
It's getting popular that you carry a travel size foam pump bottle in your bag in daily life due to its wide usage.
UKPACK is a leading foam pump bottle supplier and manufacturer in China with over 10 years of experience. We have travel size foam pump bottles, flower soap dispensers, facial foam cleanser bottles, foaming hand soap bottles, lash shampoo bottles, and more in foam bottles.
For travel foam pump bottles, we have a wide range of size of it. Such as 30ml, 50ml, 60ml, 80ml, 100ml, 120ml, 150ml, and 200ml. You can choose the best size that satisfies your needs. And more, the colors we cover a lot, and you can custom any colors according to your requirements.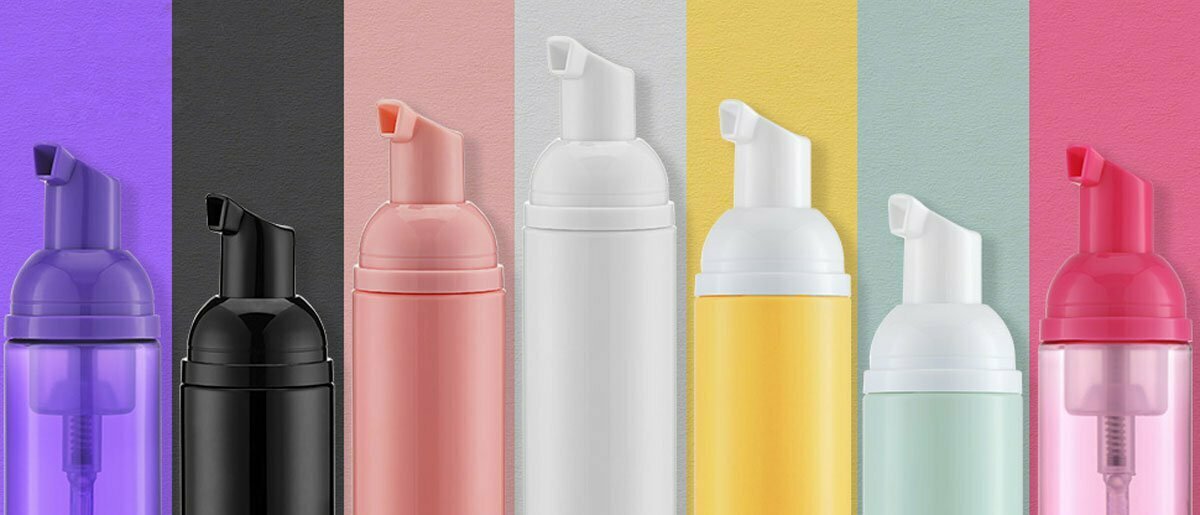 About This Item:
Material: Made of high-quality PET and PP plastic which is BPA-free, lightweight, and durable. Rust-proof and anti-corrosion strainless steel spring mechanism makes dispensing foam soft and rich super easy.
Spill-Proof Design: Equipped with a spring-loaded button inside to prevent the liquid from splashing, it makes the pump actuate smoothly.
Wide Usage: Hand wash soap, facial cleanser, shaving cream, lash shampoo, eyelash extension cleanser, hair conditioner, dish soap, sanitizer, etc.
Portable Size: 30ml, 50ml, and 60ml, these compact sizes easily fit in your pocket or a purse, you can carry them for trips, hiking, or travel.
DIY Liquid Soap: We offer the mini size for your DIY liquid soap. It's suitable for making samples of your own formulations.
Cost Save: It reduces the usage of soaps more than a regular liquid soap dispenser, but achieves the same effect of cleanliness. And it's also reusable and refillable.
How to Use A Travel Size Foam Pump Bottle?
We recommend mixing soap and water at a ratio of 1:4, a bottle of original liquid can be used more than four times while using the foam pump bottles from UKPACK. It also dispenses the foam smoother and soft, and will not irritate your skin.
Why Choose UKPACK to Manufacture The Travel Size Foam Pump Bottle?
With long years of experience in cosmetic packaging manufacturing, we offer a professional one-stop service.
High-quality standard on production, we offer the best cosmetic packaging products for clients.
Trusted by a lot of top skincare or cosmetic brands, you can rely on UKPACK.
Cost-effective products due to advanced equipment and machines.
A knowledgeable sales team supports your business.
UKPACK – foam pump bottles guide
What is The Sample Cost?
UKPACK provides free samples for quality tests for you, but clients should pay the shipping costs. The customized sample is also available, but the cost of it should be checked according to your specific requirements.
Can I Use PCR Materials for It?
Yes, you can choose the PCR materials or rPET materials for your foam pump bottles. For more details and price, please contact us today.
More Foam Pump Bottles
Do you still want to find more foam pump bottles? Please don't hesitate to contact us today, we have a lot of different designs for you to choose from.