Plastic Fine Mist 500ml Spray Bottle Manufacturer in China
Material: PET
Color: Black, white, pink, blue, green, yellow, orange, purple, gradient colors, and custom colors
Capacity: 200ml, 300ml, 500ml, 700ml
OD: 58mm, 59mm, 67mm, 70mm
Total Height: 198mm, 238mm, 279mm, 301mm
Surface Finishes: Silk screen printing, hot stamping, custom label sticker, and according to your requirements
Application: Professional hair styling, DIY hair care, skincare, face mist, tanning mist, pet care, plant care, ironing, air fresheners, household cleaning, art sprayer, car care, etc
Feature: Durable, lightweight, eco-friendly, ultra fine mist, continuous even spray, less trigger finger fatigue, super quiet, leak proof, and more
MOQ: 10000pcs
Sample: Free
Your Best 500ml Spray Bottle Manufacturer in China
As a leading 500ml spray bottle manufacturer in China, UKPACK provides high-quality and cost-effective spray bottles in a wide variety of styles, sizes, and colors.
In addition, our experienced team can design and manufacture spray bottles to meet your specific needs and requirements. We only use the highest quality materials to ensure that our empty spray bottles are durable and safe.
What's more, our products are widely used in a variety of industries, including cosmetics, food and beverage, pharmaceutical, and chemical.
Contact us today to learn more about our products and services.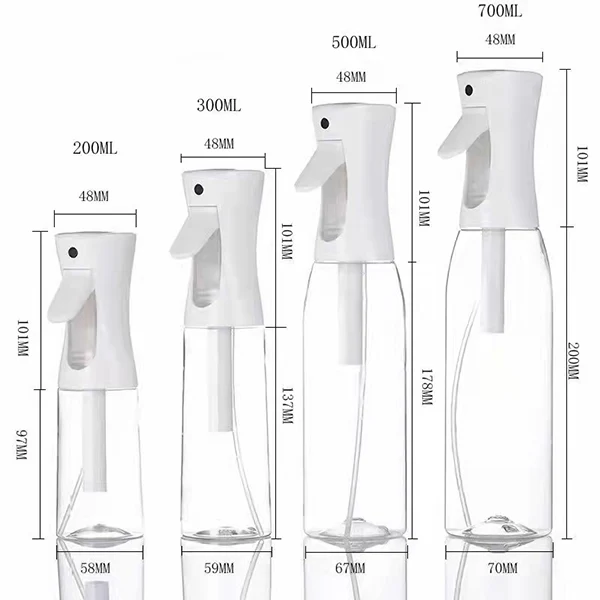 Data Sheet of Continuous Fine Mist Spray Bottle
| Size | 200ml | 300ml | 500ml | 700ml |
| --- | --- | --- | --- | --- |
| OD | 58mm | 59mm | 67mm | 70mm |
| Height | 198mm | 238mm | 279mm | 301mm |
This continuous fine mist spray bottle has 4 different sizes: 200ml, 300ml, 500ml, and 700ml. Each size is perfect for a variety of different uses, from spraying plants to misting your face.
Whether you need a small or large size, this continuous mist spray bottle has you covered.