Gold CBD Oil 15ml Plastic Dropper Bottle
Material: PET plastic
Color: Gold, we can offer custom colors according to your requirements
Capacity: 15ml
OD: 28.8mm
Height: 76.4mm
Surface Finishes: Screen printing, color spraying, hot stamping, electroplating, label sticker, and more
Application: CBD oils, essential oils, perfumes, beard oils, and other liquids.
Feature: Durable, cheap price, lightweight, etc
MOQ: 10000pcs
Sample: Free
Applications of Plastic 15ml Dropper Bottle
Plastic 15ml dropper bottles have a wide range of applications, from medical and scientific use, to beauty and cosmetics. The small size and easy dispensing make it a convenient choice for many products.
One of the most popular uses for 15ml plastic dropper bottles is in the medical and scientific field. The bottles are often used to dispense small amounts of liquid for medical use, such as for administering medication. The clear plastic allows for easy visibility of the liquid inside, and the small size makes them easy to carry and store.
Moreover, they are also commonly used in the beauty and cosmetics industry. Many makeup products, such as foundation and primer, come in 15ml containers. This size is also convenient for travel and can be easily stashed in a purse or makeup bag.
If you any needs of dropper bottles, please contact us and get free samples.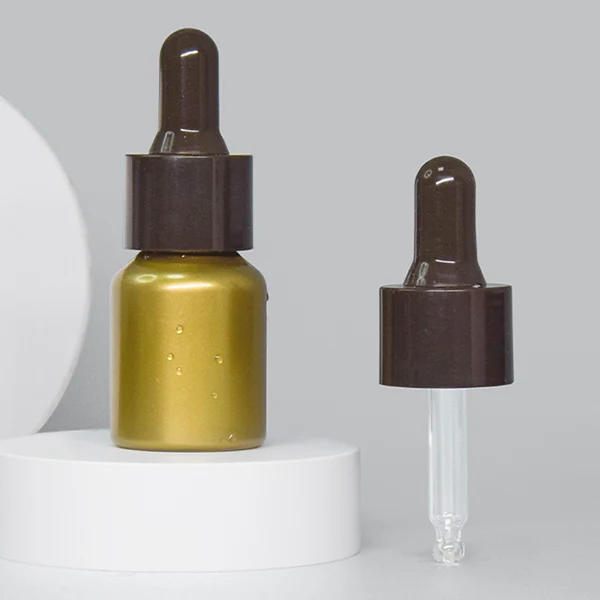 Easy Controlable & Soft Drip Head with A Glass Dip
This 15ml plastic dropper bottle uses a high-quality soft silicone intake head with a glass dip. This gives you the ability to precisely control the amount of liquid you dispense, making it perfect for use with essential oils, perfumes, and other liquids.
What's more, the sleek design of the bottle makes it easy to carry with you on the go, and the durable construction ensures that it will withstand repeated use.
Screw Mouth of 15ml Dropper Bottle
The 15ml dropper bottle has a screw mouth, which offers a good sealing. The bottle is also made of durable PET materials, which makes it a good choice for storing essential oils and other liquids.