100ml Cosmetic Jars With Lids
Material: PP, (PCR material is available)
Color: White, orange, purple, black, transparent, etc. (According to your specifications)
Capacity: 100ml
Size: OD 82mm, height 56mm
Logo & Print: Custom logo and printing available
Surface Finish Methods: Silk screen printing, hot stamping, color injection, frosted or matte surface, and more
Application: Lotions, creams, serums, moisturizers, hair masks, etc
Feature: Lightweight, double-wall, stylish, classic, full customization, durable, high quality
MOQ: 10000pcs
Sample: Free sample available
Best 100ml Cosmetic Jars
Choose 100ml cosmetic jars for cosmetics or skincare products. It is made of high-quality PP plastic, which is BPA-free. The trending double-wall design makes it luxurious.
What's more, we have the 50g cream jar option for the same model.
If you are looking for the best PP cosmetic jars for your project, please don't hesitate to submit your inquiry today.
Wide Inside PP Jar
It has a wide diameter inside PP jar, which makes it easy to store and bring out the products.
Matte Surface Design
The unique matte surface gives a comfortable holding.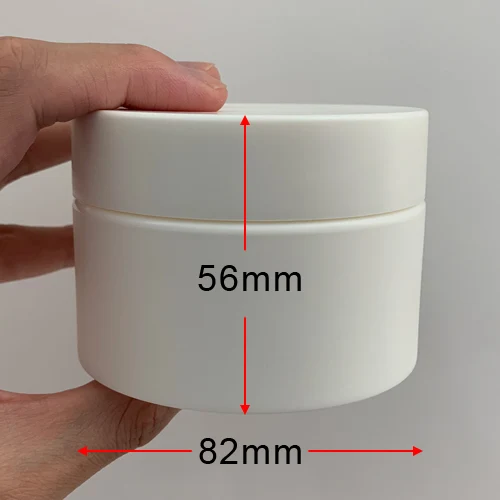 Portable Size
100ml capacity for multiple applications. Moreover, you can carry it everywhere.
BPA-Free Materials We Use
UKPACK uses BPA-free, toxic-free, odorless, eco-friendly, and high-grade raw plastic materials for all our cosmetic bottles and jars.
We focus on delivering the best consumer experience by providing high-quality and eco-friendly products.
Choose UKPACK to manufacture cosmetic containers, and we will not let you down.
Read more: What Is BPA? Should I Be Concerned About It?
Multiple Applications of 100ml Cosmetic Jars
This 100ml cosmetic jar has a wide range of applications for cosmetic and beauty products. Some usage as below:
Moisturizers

Foundations

And more products
UKPACK – Your Best Cosmetic Packaging Supplier in China
If you are looking for the best 100ml cosmetic jars supplier for your business, choose UKPACK and we will provide the best products and service.
Full Capabilities
UKPACK is able to provide all kinds of cosmetic jars. They come in different capacities such as 2oz, 3oz, 4oz, 5oz, 6oz, 7oz, 8oz, 9oz, 10oz, and more. And we also offer a wide range of designs, shapes, and custom colors.
High-quality and Cost-effective Products
We are equipped with advanced machines. They help us manufacture high-quality cosmetic bottles and jars in fast time. Meanwhile, they also help us improve the production capacity per day. That's why we can offer cost-effective products for our clients. We are looking for a win-win business relationship with you.
Professional Sales Team
With the support of our professional sales team, you can get answers for your problems in quick time. You will get a great service.
Custom OEM & ODM Service
Get a one-stop service from us. Just tell us your ideas, and our professional sales team will assist you to finish your project.
No matter what size you are looking for, we have the right one for you. In addition, we offer surface finishes such as screen printing, hot stamping, electroplating, etc.
To learn more about UKPACK customization service, please get a quick quote now.
Why UKPACK is Trusted by

1000+

Clients
UKPACK provides one-stop cosmetic packaging solutions with full customizations. And we focus on delivering the best consumer experience by using our high-quality products.
The FAQs
Any questions? Maybe the below can hep.
Client Testimonials
Don't take our word for it, read the feedback from some of our clients.
I'm looking for airless pump bottles for my essence business. UKPACK did a great job! The airless pump bottle works very nice for my formulation and the surface of it is processed very beautifully. UKPACK is a great supplier to trust.
UKPACK is very professional when it comes to cosmetic packaging manufacturing. The PP cosmetic jar quality is very good, the logo printing is clear, and the color is exactly what I am looking for.
UKPACK has the best service and professional team to help me design the cream jar for my business. The shipping is also fast. UKPACK is a good supplier to work with! I highly recommend it.