Polypropylene PP Plastic Cosmetic Cream Jar Supplier in China
UKPACK provides one stop service of high quality polyprolene pp jar with full customization. You can get custom pp cosmetic jar according to your specific requirements.
High quality

Full customization

One stop service

A wide range of PP jar collection
If you have any needs of custom pp jar for your business, please don't hesitate to contact us today. UKPACK will be your trusted partner.
UKPACK – Your Best PP Jar Manufacturer in China
As a leading pp cosmetic jar manufactuer, UKPACK always provides high quality products for our clients with competitice price. Besides, we offers a wide range of pp jars with full customization service. Such as sizes, colors, styles, surface finishing methods, and etc. We have pp jars from 5ml to 500ml size to meet your needs. What's more, custom mold is available, we have advanced machines to help you make your own mold with good price.
Our pp plastic cosmetic jars design for all kinds of cosmetic and skincare applications. Such as face cream, eye cream, body butter, body scrub, hair mask, lip scrub, cleansing balm, and more.
To create your own unique pp jars, we provides a wide range of surface finishing methods. Such as silk screen printing, hot stamping, sticker label, color spraying, color injection, frosted or matte surface, and etc.
For your upcoming business that requires pp jars, please don't hesitate to contact us now. UKPACK will provide a quick quotation for your project.
What is A PP Jar?
PP jar is also called polyprolene jar, it's the most common plastic jar used for cosmetic and skincare products. It comes with a great chemical resistance, fatigue resistance, heat resistance and it's also mechanically rugged.
What's more, pp material has a very good flexibility and preciseness for injection moulding. UKPACK will make your own pp jars if you have the design file.
UKPACK will be your best pp jars supplier to support your upcoming business.
Environmentally-Friendly
UKPACK uses eco friendly and sustainable raw materials for pp jars. You can also use PCR material.
Cost and Time-Efficient
Equipped with advanced and machines, UKPACK make it possible to save your cost and time.
HIgh Quality Guaranteed
UKPACK promises to produce high quality pp jars for your business. We focus on consumers experiences.
Custom Surface Finish Methods
Silk Screen Printing
Gradient Color Spraying
Hot Stamping
Color Injection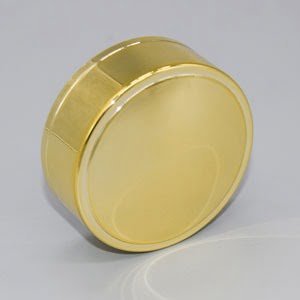 Electroplating
Shrink Film
Two Types of PP Jars
There are two common types of pp jars: one type is single wall pp jars, another is double wall pp jars. The single wall is easy to understand. And the for double wall type, it has a inner jar which is mounted into outer jar with the assembly line.
The inner jar was mainly made of PP plastic due to its good compatibility properties. And the single type is more cost effective, and the double wall type has a luxury appearance.
Why Choose UKPACK as Your PP Cosmetic Jar Supplier
UKPACK provides one stop full customization service of pp jars. Over nearly 10 years in cosmetic packaging busines, we've established high standard in pp cosmetic jar production. We specialize in high end, cost effective, and luxury pp plastic cosmetic jar manufacturing.
A full range of size options of cosmetic jars: 1oz, 2oz, 3oz, 4oz, 5oz, 6oz, 7oz, 8oz, 9oz, 10oz, 11oz, 12oz, 13oz, 14oz, 15oz, and more. The popular size is China 8 oz cosmetic jars for many clients' option.
Our cases include pp face cream jar, pp eye cream jar, pp hair waxes jar, pp body butter jar, pp cleansing balm jar and many more. All of our pp cosmetic jars meet high quality ISO9001 standard. And it makes our valued clients rely on our stringent quality assurance standards.
If you have any needs of pp jars for your project, please don't hesitate to contact us or request a quote today.
I'm looking for airless pump bottle for my essence business. UKPACK did a great job! The airless pump bottle works very nice for my formulation and the surface of it is processed very beautiful. UKPACK is a great supplier to trust.
UKPACK is very professional when it comes to cosmetic packaging manufacturing. The PP cosmetic jar quality is very good, the logo printing is clear, and the color is exactly what I am looking for.
UKPACK has the best service and professional team to help me design the cream jar for my business. The shipping is also fast. UKPACK is a good supplier to work with! I highly recommend UKPACK.
PP Jars Manufacturer: The Ultimate Guide
In this guide, you will find all information you are looking for pp jars.
Whether you want to learn more about materials, colors options, surface finish methods, sizes and other features, you will find it right here.
Keep reading to learn more about it.